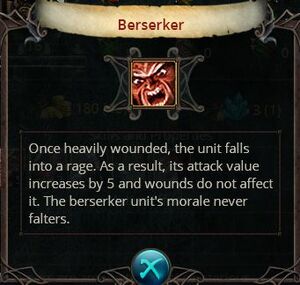 When heavily wounded, the unit falls into rage: its attack increases by the value of this ability, and wounds do not affect it. The berserker's morale never falters.
This skill is avilable to the following units
Edit
The following items give this skill
Edit
Ad blocker interference detected!
Wikia is a free-to-use site that makes money from advertising. We have a modified experience for viewers using ad blockers

Wikia is not accessible if you've made further modifications. Remove the custom ad blocker rule(s) and the page will load as expected.