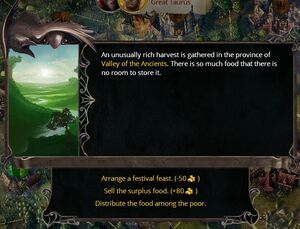 An Unusually rich harvest is gathered in a province. There is so much food that there is no room to store it.
Options and Consequences
Edit
Arrange a festival feast (-50)

Province Happiness increases (+2)

Excellent!
Ah, the happines of mortals...

Sell the surplus food (+80)
Distribute the food among the poor.

Poor beggars move into the province from all sorts of place.

The population is increased and province mood decreases (by how much ?)
Ad blocker interference detected!
Wikia is a free-to-use site that makes money from advertising. We have a modified experience for viewers using ad blockers

Wikia is not accessible if you've made further modifications. Remove the custom ad blocker rule(s) and the page will load as expected.